Expedia Cruises – A Top Rated Travel Franchise
At Expedia Cruises, we are a full-service leisure travel agency anchored by our deeply passionate expertise for air, land, and sea vacations. Backed by the most powerful travel brand in the world – Expedia – we've thoroughly integrated their massive brand presence, state-of-the-art technology, unrivaled marketing, and distinguished supplier relationships to become Expedia's cruise experts.
Our omnichannel retail model provides customers with a seamless booking experience from start to finish while providing our retail centers with additional channels for lead generation. Not only do our franchisees receive leads from their Expediacruises.com website, Center walk-ins, and a robust marketing program, they also benefit from ALL cruise inquiries that come in from Expedia.com and Expedia.ca, within their market territory.
Plus, you will be able to leverage billions of dollars in buying power with Expedia to offer a competitive range of products, while earning the some of the highest commissions in the industry from every cruise and land supplier! With Expedia, we are powered by one of the top brands in travel.
Customers Book When, Where, and How They Want!
Our continued integration with Expedia has enabled us to capture new shoppers and turn them into long-term customers, while at the same time giving our customers an exceptional shopping experience with the ability to book when, where, and how they choose. With just 10% of cruises being sold through an online travel agency, there is tremendous opportunity to tap into the remaining 90% of cruisers who value the expertise and knowledge of a cruise. Plus, cruises are just the beginning! Each Expedia Cruises location helps customers book All-Inclusive Resorts, Coach & Rail Tours, Vacation Packages, Homes & Villas, Insurance, Flights, Hotels, and Activities. Our brick-and-mortar travel agencies are more relevant than ever in driving awareness in local communities and positioning themselves as a team of trusted experts, ready and able to offer expert advice to new and existing Expedia customers.
Our Competitive Advantage
Our travel franchise network of 35+ years is rapidly expanding across North America, with over 260 independently owned retail locations currently open or under development. With a proven business model that is affordable and extremely scalable, our travel franchise owners are bringing the Expedia brand, expert advice, outstanding value, and a seamless booking experience to travelers in their communities.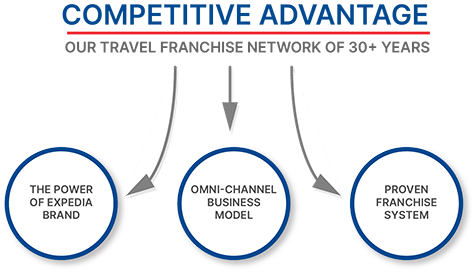 Start your franchising journey to learn more about our differentiators, and how you can own the only brick-and-mortar model within the Expedia brand.